Thermocork
is a natural cork render for new build and renovation projects. It provides a sustainable, innovative solution for homes, residential, commercial and industrial buildings. Backed by a 10 year Warranty onto any surface Even on Cracked render it will not re crack as it is super flexible can flex upto 38% prefect for materials that need to move due to expansion in wet/cold and summer months.
Recommended by Kevin McCloud presenter of TV's Grand Designs, it offers an eco-friendly and high performance alternative to Paint and other decorative finish coats.

Completely Eco friendly Cork is taken from the cork oak tree but no trees are felled. Instead the bark is stripped away and this releases oxygen into the air, which reduces carbon dioxide in the environment.
That's good for the planet. The tree's bark grows back each time. So it's a sustainable resource (unlike quarried materials). The raw material goes to make Thermocork.
For more info click here
Watch video here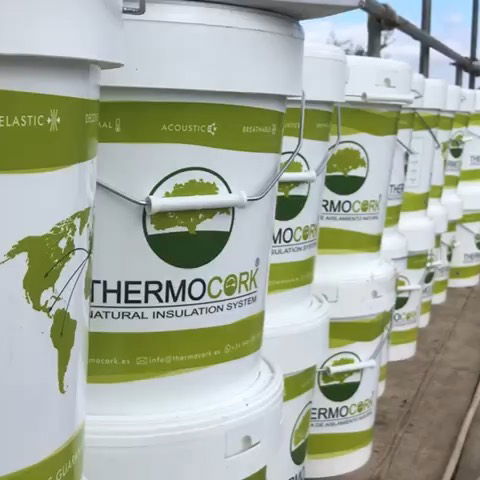 Benefits of ThermoCork
Energy saving and environmentally responsible
Decorative coating and insulation of façades
Acoustic insulation
Durable
80% = breathable vapor permeable
No more moisture problems
Non-toxic
Colour Card with a range of 26 colours
Suitable for encapsulation of asbestos sheets and slates
Thermal insulation
Water resistant (roofs and façades)
Fire resistant
Reduction of thermal bridges
Crack bridging, tough and elastic will not crack prefect for cracked renders repairs
Can be sprayed on to all materials as its a super natural adhesive : stone, concrete, ceramic tile, iron, wood, pvc, glass and new/old renders etc
For more info click here
07700357027